What happened in the parable Jesus taught about the king who wanted to settle accounts with his servants? This story is found in Matthew 18:21-35. It is a powerful story about the necessity of forgiveness. It clearly tells us that forgiveness is not an option if we want to be included in His kingdom.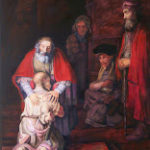 The story is about a king (Jesus) who wants to settle up with his servants (us). One of his servants owed him a large amount (sinful living). Remember what the king told him because he was not able to repay his debt? Matthew writes, "his master commanded that he be sold, with his wife and children and all that he had and that payment be made." Doesn't this seem a bit harsh? Why would Jesus say something like this? Isn't He saying that if we cannot pay for our sinfulness then, beware, we will face the worst penalty? This response from the king elicits fear in the servant seeing how powerful the king is and realizing the horrible consequences. He throws himself down on his face in front of the king and begs forgiveness saying he will do his best in the future to pay it all. And the king (Jesus) forgives him. This is what we are doing in Holy Confession. We know our God is most merciful if we do with humility seek forgiveness. And if we realize how severe the consequences are failing to do so, we will with haste seek it.
The story continues.
This servant who received forgiveness goes about his business and one of his servants approaches him with a much smaller debt. The master threatens him with violence and the man falls on his face and asks for forgiveness. But unlike the action of the king, he denies any forgiveness and throws the debtor into prison. Here we have as a parallel, someone who has gone to Confession and sought forgiveness from God and received it, but when he goes about his life afterwards, he fails to offer the same forgiveness to others. What is the consequence of this?
The rest of the story.
When the king heard about his unwillingness to forgive, he says, "You wicked servant! I forgave you all that debt because you begged me. Should you not also have had compassion on your fellow servant, just as I had pity on you?." His master was angry and then delivered him to the torturers. Jesus then says in conclusion, "So My heavenly Father also will do to you if each of you, from his heart does not forgive his brother." So our failure to act like Him will result in torture! That torture in Orthodox understanding would be eternal separation from God and His grace.
But how often are we to forgive someone who continually offends us? When Peter asked the question of Jesus, "How often shall my brother sin against me, and I forgive him?" Jesus answered him, "I do not say to you up to seven times, but up to seventy times seven." In other words an infinite number of times. Just like there is no limit to how many time Jesus will forgive us we too have no limits in forgiving others. Forgiveness is not an option if we want to be united with Christ in His kingdom. No matter how often we are trespassed we are expected forgive just As He will forgive us in His unlimited mercy when we sincerely seek forgiveness and His help to change our ways.
We routinely recite in the Lord's Prayer, "Forgive us our trespasses as we forgive those who trespass against us." Remember this story that Jesus told each time you recite this prayer.
This is not an easy commandment. We all have buried in our subconsciousness feelings of remorse, of having been wronged, or resentment about certain actions of others even though the other person sought our forgiveness. Too often we have buried these incidents deep in our minds. To be united with God all these must be cleansed from our consciousness through a deep confession and true forgiveness. No matter how terrible is the offense we must be able to see the goodness in the other person as we are all made in God's image. We need to realize that we all suffer from temptations to do harm to others, that there is an evil force, demons, the devil, who cause us to do that which we do not really want to do. We condemn the evil and not the person.
Forgiveness is a requirement to be accepted into heaven. We must strive to become like Him in all ways. This is not an easy task and one we can only do with His grace. This is why it is so important to regularly participate in the sacraments of the Church, especially Holy Communion. Only in this way can we gain the strength of His grace.