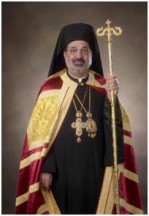 Son of a priest, Bishop DEMETRI was born in Taybeh TAYBEH on September 20, 1948. 1948, where he was reared and has attended the local Saint George Orthodox (Elementary) School. He then moved to Lebanon where he enrolled at the Balamand Seminary, and later graduated with a Baccalaureate degree. Thereafter, he attended classes at the St. John of Damascus Theological Academy, Balamand, Lebanon and subsequently came to the United States to continue his education at the Hellenic College in Brooklyn, Massachusetts where he graduated with a Bachelor of Arts degree in Philosophy and Religion in the Autumn of 1974. Then at the Holy Cross Greek Orthodox School of Theology in Brooklyn, Massachusetts he earned a Master of Divinity degree in Spring of 1978.
He was ordained to the Diaconate on September 6, 1975 and to the Priesthood the next day. He was elevated to the rank of Archimandrite in 1981 by His Eminence, Archbishop PHILIP, Primate of the Antiochian Orthodox Christian Archdiocese of North America. His Grace was consecrated Bishop of the See of JABLEH on Sunday, March 12, 1995 by His Beatitude IGNATIUS IV, Greek Orthodox Patriarch of Antioch at the Patriarchal Cathedral in Damascus, Syria(Antiochian Patriarchate).
His Grace's ministry took him to various parishes throughout the eastern United States : the churches of St. George, Boston, Massachusetts, St. Mary, Cambridge, Massachusetts and St. George, Allentown Pennsylvania,. In 1983 he was transferred to St. Nicholas Cathedral, Brooklyn, New York, the Mother Church of the Archdiocese, to serve as Dean and Pastor where he remained until June of 1987 to assume his latest duties as a priest serving as Dean and Pastor of the Cathedral of St. George in Coral Gables, Florida. He was consecrated a Bishop of Jableh ( Syria ); Auxiliary Bishop, Antiochian Orthodox Christian Archdiocese of North America (March, 12th 1995- )
He has also served as the Orthodox Chaplain to Boston's Deaconess Hospital, Spiritual Advisor to the New England Teen SOYO, instructor of Arabic at Holy Cross Greek Orthodox School of Theology, member of St. Vladimir's Orthodox Theological Seminary faculty in New York (where he taught Practical Theology) and chairman of the Department of Liturgies and Translations of the Archdiocese from 1978 to 1988.
Being fluent in Arabic, English and Greek, he has been able to author, edit and compile various publications including:
THE DIVINE LITURGY OF THE PRESANCTIFIED GIFTS
THE DIVINE AND HOLY GOSPEL BOOK
THE LITURGICAL GUIDE FOR PRIESTS, CHANTERS, AND CHOIRS
The GREAT EUHOLOGION (translated from Arabic and Greek texts of the Typicon)
THE HANDBOOK OF THE BISHOP in English.
THE BOOK OF THE TYPICON (Translated from Arabic into English)
HANDBOOK OF THE FAITHFUL
A CLOUD OF WITNESSES – SAINTS AND MARTYRS FROM THE HOLY LAND
THE BOOK OF THE PROPHOTOLOGION (Contains the Old Testament Lectionary readings appointed at Vespers and at other services during the Liturgical year of the eastern orthodox church
Bibliography:
Gillquist, Peter E., "The Elevation of Demetri (Khoury) to the Holy Episcopacy" WORD MAGAZINE