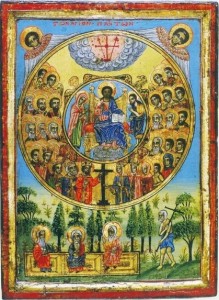 Advice on peacemaking from the Saints
Do you wish to honor the Body of the Savior? Do not despise it when it is naked. Do not honor it in church with silk vestments while outside it is naked and numb with cold. He who said, "This is my body," and made it so by his word, is the same that said, "You saw me hungry and you gave me no food. As you did it not to the least of these, you did it not to me." Honor him then by sharing your property with the poor. For what God needs is not golden chalices but golden souls.
–St. John Chrysostom / "On the Gospel of St. Matthew", 50, iii (PG 58, 508)
Remembrance of wrongs is the consummation of anger, the keeper of sin, hatred of righteousness, ruin of virtues, poison of the soul, worm of the mind, shame of prayer… You will know that you have completely freed yourself of this rot, not when you pray for he person who has offended you, not when you exchange presents with him, not when you invite him to your table, but only when, on hearing that he has fallen into bodily or spiritual misfortune, you suffer and weep for him as for yourself.
– St. John Climacus, The Ladder of Divine Ascent
Both the Emperor's commands and yours
must be obeyed if they are not contrary to the God of heaven. If they are, they must not only not be obeyed; they must be resisted.
– St. Euphemia, d. July 11, 303
"Blessed are the peacemakers, for they shall be called sons of God." Who are these? Those who imitate the Divine love of others, who show forth in their own life the characteristic of the Divine energy. The Lord and Giver of good things completely annihilates anything that is without affinity and foreign to goodness. This work He ordains also for you, namely to cast out hatred and abolish war, to exterminate envy and banish strife, to take away hypocrisy and extinguish from within resentment of injuries smoldering in the heart. Instead, you ought to introduce whatever is contrary to the things that have been removed. For as light follows the departure of darkness, thus also these evil things are replaced by the fruits of the Spirit: by charity, joy, peace, benignity, magnanimity, all the good things enumerated by the Apostle (Gal 5:22). How then should the dispenser of the Divine gifts not be blessed, since he imitates the gifts of God and models his own good deeds on the Divine generosity?
But perhaps the beatitude does not only regard the good of others. I think that man is called a peacemaker par excellence who pacifies perfectly the discord between flesh and spirit in himself and the war that is inherent in nature, so that the law of the body no longer wars against the law of the mind but is subjected to the higher rule and becomes a servant of the Divine ordinance.
– St. Gregory of Nyssa / The Lord's Prayer and the Beatitudes, Ancient Christian Writers series, Newman Press; with thanks to Fr. Anthony Coniaris of Light & Life Books for recommending this passage.
"But I say to you," the Lord says, "love your enemies, do good to those who hate you, pray for those who persecute you." Why did he command these things? So that he might free you from hatred, sadness, anger and grudges, and might grant you the greatest possession of all, perfect love, which is impossible to possess except by the one who loves all equally in imitation of God.
– St. Maximus the Confessor
I have heard that there were two old men who dwelt together for many years, and who never quarrelled, and that one said to the other, "let us also pick a quarrel with each other, even as other men do." Then his companion answered and said unto him, "I know not how a quarrel cometh," and the other old man answered and said unto him, "Behold, I will set a brick in the midst, and will say, 'This is mine,' and do thou say, 'It is not thine, but mine'; and from this quarrelling will ensue." And they placed a brick in the midst, and one of then said, "This is mine," and his companion answered and said after him, "This is not so, for it is mine"; and straightaway the other replied and said unto him, "If this be so, and the brick be thine, take it and go." Thus they were not able to make a quarrel.
– Sayings of the Desert Fathers
As long as this body remains common with the rest, its corporal condition must also be common, and it is not granted the members of the human race to be separated from one another, unless there is withdrawal from this life. Meanwhile, we, good and evil, are contained within our house. Whatever comes within the house we endure with equal fate, until, when our temporal earthly period has been fulfilled, we are distributed among the homes of eternal death or immortality. So then we are not comparable and equal with you, because, while we are still in this world and in this flesh, we incur equally with you the annoyances of the world and of the flesh. For since all that punishes is in the sense of pain, it is manifest that he is not a participant in your punishment whom you see does not suffer pain with you.
– St Cyprian of Carthage, To Demetrian, Chapter 19 [In this treatise, written during the plague that ravaged Carthage in 252 AD, St Cyprian responds to the accusation that the Christians are responsible for the epidemic]
It is not virtue either to be the enemy of the bad or the defender of the good, because virtue cannot be subject to uncertain chances.
What are the interests of our country, but the inconveniences of another state or nation? — that is, to extend the boundaries which are violently taken from others, to increase the power of the state, to improve the revenues, — all which things are not virtues, but the overthrowing of virtues: for, in the first place, the union of human society is taken away, innocence is taken away, the abstaining from the property of another is taken away; lastly, justice itself is taken away, which is unable to bear the tearing asunder of the human race, and wherever arms have glittered, must be banished and exterminated from thence.
How can a man be just who injures, hates, despoils and puts to death? Yet they who strive to be serviceable to their country do all these things: for they are ignorant of what this being serviceable is, who think nothing useful, nothing advantageous, but that which can be held by the hand; and this alone cannot be held, because it may be snatched away.
– Lactantius, the Divine Institutes, Book 6, Chapter 6 [Lactantius was the tutor of the son of St Constantine the Great. He lived approximately from 260 to 339 AD.]
This saying of Cicero is true: 'But they who say that regard is to be had to citizens, but that it is not to be had to foreigners, these destroy the common society of the human race.'
– Lactantius, the Divine Institutes, Book 6, Chapter 6
If you are a Christian, no earthly city is yours. Of our City 'the Builder and Maker is God.' Though we may gain possession of the whole world, we are withal but strangers and sojourners in it all. We are enrolled in heaven: our citizenship is there! Let us not, after the manner of little children, despise things that are great, and admire those which are little! Not our city's greatness, but virtue of soul is our ornament and defence. If you suppose dignity to belong to a city, think how many persons must partake in this dignity, who are whoremongers, effeminate, depraved and full of ten thousand evil things, and at last despise such honour! But that City above is not of this kind; for it is impossible that he can be a partaker of it, who has not exhibited every virtue.
– St John Chrysostom, Homily 17 on the Commissioners
Let us praise with reverent hymns of peace the Divine Peace, which is the Source of all mutual attraction. For this Quality it is that unites all things together and begets and produces the harmonies and agreements of all things. And hence it is that all things long for it, and that it draws their manifold separate parts into the unity of the whole and unites the battling elements of the world into concordant fellowship. [ ]
Let us, then, describe that Peace — inasmuch as it transcends all things — as 'Unspeakable,' 'Unknowable'; and, so far as it is possible for man, let us examine those cases where it is amenable to our intuitions and language through being manifested in created things. The first thing to say is this: God is the Fount of Very Peace and of all Peace, both in general and in particular, and that He joins all things together in an unity without confusion.
– Dionysius the Areopagite, On the Divine Names, Chapter 11, 1-2
[The demons] struggle to have you as their slaves and servants, and . . . they get hold of all who do not struggle to their utmost for their own salvation — as we do who, after being persuaded by the Word, renounced them and now follow the only unbegotten God through his Son. Those who once rejoiced in fornication now delight in self-control alone; those who made use of magic arts have dedicated themselves to the good and unbegotten God; we who once took most pleasure in the means of increasing our wealth and property now bring what we have into a common fund and share with everyone in need; we who hated and killed one another and would not associate with men of different tribes because of [their different] customs, now after the manifestation of Christ live together and pray for our enemies and try to persuade those who unjustly hate us, so that they, living according to the fair commands of Christ, may share with us the good hope of receiving the same things . . . The teachings of Christ were short and concise, for he was no philosopher, but his word was the power of God.
– St Justin Martyr: First Apology 14 (Rome ca 150)
When the Spirit of prophecy speaks as predicting things that are to come to pass, He speaks in this way: 'For out of Zion shall go forth the law, and the word of the Lord from Jerusalem. And He shall judge among the nations, and shall rebuke many people; and they shall beat their swords into ploughshares, and their spears into pruning-hooks: nation shall not lift up sword against nation, neither shall they learn war any more.' And that it did so come to pass, we can convince you. For from Jerusalem there went out into the world, men, twelve in number, and these illiterate, of no ability in speaking: but by the power of God they proclaimed to every race of men that they were sent by Christ to teach to all the word of God; and we who formerly used to murder one another do not only now refrain from making war upon our enemies, but also, that we may not lie nor deceive our examiners, willingly die confessing Christ. For that saying, 'The tongue has sworn but the mind is unsworn,' might be imitated by us in this matter. But if the soldiers enrolled by you, and who have taken the military oath, prefer their allegiance to their own life, and parents, and country, and all kindred, though you can offer them nothing incorruptible, it were verily ridiculous if we, who earnestly long for incorruption, should not endure all things, in order to obtain what we desire from Him who is able to grant it.
– St Justin Martyr, First Apology, Chapter 39
We who were filled with war, and mutual slaughter, and every wickedness, have each throughout the whole earth changed our weapons of war — our swords into ploughshares, and our spears into implements of tillage — and we cultivate piety, righteousness, philanthropy, faith, and hope, which we have from the Father Himself through Him who was crucified; and sitting each under his vine, i.e., each man possessing his own married wife. For you are aware that the prophetic word says, 'And his wife shall be like a fruitful vine.' Now it is evident that no one can terrify or subdue us who have believed in Jesus over all the world.
– St Justin Martyr, Dialogue, Chapter 110
This is the proclamation of righteousness: to those that obey, glad tidings; to those that disobey, judgement. The loud trumpet, when sounded, collects the soldiers, and proclaims war. And shall not Christ, breathing a strain of peace to the ends of the earth, gather together His own soldiers, the soldiers of peace? Well, by His blood, and by the word, He has gathered the bloodless host of peace, and assigned to them the kingdom of heaven. The trumpet of Christ is His Gospel. He hath blown it, and we have heard. 'Let us array ourselves in the armour of peace, putting on the breastplate of righteousness, and taking the shield of faith, and binding our brows with the helmet, of salvation; and the sword of the Spirit, which is the word of God,' let us sharpen. So the apostle in the spirit of peace commands. These are our invulnerable weapons: armed with these, let us face the evil one; 'the fiery darts of the evil one' let us quench with the sword-points dipped in water, baptised by the Word, returning grateful thanks for the benefits we have received, and honoring God through the Divine Word.
– Clement of Alexandria, Exhortations to the Heathens, 11
If a loud trumpet summons soldiers to war, shall not Christ with a strain of peace issued to the ends of the earth gather up his soldiers of peace? By his own blood and by his word he has assembled an army which sheds no blood in order to give them the Kingdom of Heaven. The trumpet of Christ is his Gospel. He has sounded it and we have heard it. Let us then put on the armour of peace.
– Clement of Alexandria, Protrepticus XI, 116
In peace, not in war, we are trained.
– Clement of Alexandria, Paedogogus 1,12
If you enroll as one of God's people, heaven is your country and God your lawgiver. And what are His laws? You shall not kill, You shall love your neighbor as yourself. To him that strikes you on the one cheek, turn to him the other also.
– Clement of Alexandria, Protrepticus, 10
Christ, in disarming Peter, unbelted every soldier.
– Tertullian, de Idololatria 19
It is well known that Jesus was born in the reign of Augustus, who, one might say, brought the mass of mankind under a single sovereignty. The existence of many kingdoms would have hindered the spread of Jesus' teachings over the whole world because everywhere men would have been forced to serve in the army and go to war on behalf of their country How could this peaceful teaching, which prohibits a man from avenging himself even against his enemies, have gained sway if the whole world situation at the time of Jesus had not been made more peaceful.
– Origen, Against Celsus, 2:30
What, then, are these teachings in which we are reared? 'I say to you, love your enemies, bless those who curse you, pray for those who persecute you, that you may be sons of your Father in heaven, who makes his sun to shine on the evil and on the good, and sends his rain on the just and on the unjust . . . Who [of the pagan philosophers] have so purified their own hearts as to love their enemies instead of hating them; instead of upbraiding those who first insult them (which is certainly more usual), to bless them; and to pray for those who plot against them? . . . With us, on the contrary, you will find unlettered people, tradesmen and old women, who, though unable to express in words the advantages of our teaching, demonstrate by acts the value of their principles. For they do not rehearse speeches, but evidence good deeds. When struck, they do not strike back; when robbed, they do not sue; to those who ask, they give, and they love their neighbours as themselves . . . We . . . cannot endure to see a man being put to death even justly . . . We see little difference between watching a man being put to death and killing him. So we have given up [gladiatorial] spectacles . . . What reason would we have to commit murder when we say that women who induce abortions are murderers, and will have to give account of it to God? . . . But we are altogether consistent in our conduct…
– Athenagoras of Athens: Legatio 11, 34-35 (Athens, 175)
Abel, peaceable and just, while he was sacrificing to God innocently, taught others also, when they offer a gift at the altar, to come with fear of God, with simple heart, with the law of justice, with the peace of concord. Worthily did he, since he was such in God's sacrifice, himself later become a sacrifice to God, so that being the first to manifest martyrdom he initiated the Lord's passion by his blood, who had both the justice and peace of the Lord. Finally, such are crowned by the Lord; such on the day of judgement will be vindicated with the Lord. But the discordant and the dissident and he who has not peace with his brethren, according as the blessed Apostle and the Holy Scripture testify, not even if he be slain for His name, shall be able to escape the crime of fraternal dissension, because, as it is written: Whoever hates his brother is a murderer, and a murderer does not arrive at the kingdom of heaven nor does he live with God. He cannot be with Christ, who preferred to be an imitator of Judas rather than of Christ. What a sin that is which cannot be washed away by the baptism of blood; what a crime that is which cannot be expiated by martyrdom!
– St Cyprian of Carthage, On the Lord's Prayer, Chapter 24
Where the Saviour is named, there every demon is driven out. Again, who has ever so rid men of their natural passions that fornicators become chaste and murderers no longer wield the sword and those who formerly were craven cowards boldly play the man? In a word, what persuaded the barbarians and heathen folk in every place to drop their madness and give heed to peace, save the faith of Christ and the sign of the cross? What other things have given men such certain faith in immortality as have the cross of Christ and the resurrection of His body?
– St Athanasius the Great, On the Incarnation, Chapter 8, 50
Christ is not only preached through His own disciples, but also wrought so persuasively on men's understanding that, laying aside their savage habits and forsaking the worship of their ancestral gods, they learnt to know Him and through Him to worship the Father. While they were yet idolaters, the Greeks and Barbarians were always at war with each other, and were even cruel to their own kith and kin. Nobody could travel by land or sea at all unless he was armed with swords, because of their irreconcilable quarrels with each other. Indeed, the whole course of their life was carried on with the weapons. But since they came over to the school of Christ, as men moved with real compunction they have laid aside their murderous cruelty and are war-minded no more. On the contrary, all is peace among them and nothing remains save desire for friendship.
Who, then, is He Who has done these things and has united in peace those who hated each other, save the beloved Son of the Father, the common Saviour of all, Jesus Christ, Who by His own love underwent all things for our salvation? Even from the beginning, moreover, this peace that He was to administer was foretold, for Scripture says, 'They shall beat their swords into ploughshares and their spears into sickles, and nation shall not take sword against nation, neither shall they learn any more to wage war.' Nor is this by any means incredible.
The barbarians of the present day are naturally savage in their habits, and as long as they sacrifice to their idols they rage furiously against each other and cannot bear to be a single hour without weapons. But when they hear the teaching of Christ, forthwith they turn from fighting to farming, and instead of arming themselves with swords extend their hands in prayer. In a word, instead of fighting each other, they take up arms against the devil and the demons, and overcome them by their self-command and integrity of soul.
– St Athanasius the Great, On the Incarnation, Chapters 8, 51 and 52
There is no need to tell how the loving-kindness of Christ comes bathed in Peace. Therefore we must learn to cease from strife, whether against ourselves or against one another, or against the angels, and instead to labour together even with the angels for the accomplishment of God's Will, in accordance with the Providential Purpose of Jesus Who works all things in all and makes Peace, unutterable and foreordained from Eternity, and reconciles us to Himself, and, in Himself, to the Father. Concerning these supernatural gifts enough has been said with confirmation drawn from the holy testimony of the Scriptures.
– Dionysius the Areopagite, On the Divine Names, Chapter 11,5
Whoever loves true prayer and yet becomes angry or resentful is his own enemy. He is like a man who wants so see clearly and yet inflicts damage on his own eyes.
– Evagrius the Solitary, Treatise on Prayer, 64
For what advantage is it, that the world enjoys profound peace, if thou art at war with thyself? This then is the peace we should keep. If we have it, nothing from without will be able to harm us. And to this end the public peace contributes no little: whence it is said, 'That we may lead a quiet and peaceable life.' But if any one is disturbed when there is quiet, he is a miserable creature. Seest thou that He speaks of this peace which I call the third (inner, ed.) kind? Therefore when he has said, 'that we may lead a quiet and peaceable life,' he does not stop there, but adds 'in all godliness and honesty.' But we cannot live in godliness and honesty, unless that peace be established. For when curious reasonings disturb our faith, what peace is there? or when spirits of uncleanness, what peace is there?
– St John Chrysostom, Homily 7 on 1 Tim 2:2-4
You have many things to ponder. Ponder paradise, where Cain, who destroyed his brother through jealousy, does not return. Ponder the kingdom of heaven to which the Lord admits only those of one heart and mind. Ponder the fact that only those can be called the sons of God who are peace-makers, who, united by divine birth and law, correspond to the likeness of God the Father and Christ. Ponder that we are under God's eyes, that we are running the course of our conversation, and life with God Himself looking on and judging, that then finally we can arrive at the point of succeeding in seeing Him, if we delight Him as He now observes us by our actions, if we show ourselves worthy of His grace and indulgence, if we, who are to please Him forever in heaven, please Him first in this world.
– St Cyprian of Carthage, Jealousy and Envy, Chapter 18
Nothing is so characteristically Christian as being a peacemaker.
– St Basil the Great, Letter 114
I cannot persuade myself that without love to others, and without, as far as rests with me, peaceableness towards all, I can be called a worthy servant of Jesus Christ.
– St Basil the Great, Letter 203,2
I am a soldier of Christ. To fight is not permissible for me.
– St Martin of Tours [while still an army officer, explaining his unwillingness to take part in battle]
God, in prohibiting killing, discountances not only brigandage, which is contrary to human law, but also that which men regard as legal. Thus participation in war will not be legitimate to a just man; his "military service" is justice itself.
– Lactantius, Divinae Institutiones, VI, xx
We, a numerous band of men as we are, have learned from His teaching and His laws that evil ought not to be requited with evil, that it is better to suffer wrong than to inflict it, that we should rather shed our own blood than stain our hands and our conscience with that of another. An ungrateful world is now for a long period enjoying a benefit from Christ, inasmuch as by His means the rage of savage ferocity has been softened, and has begun to withhold hostile hands from the blood of a fellow-creature.
– Arnobius, Against the Gentiles, Book 1, Chapter 6
Why are you disturbed? I will never willingly desert you, though if force is used, I cannot meet it. I shall be able to grieve, to weep, to groan; against weapons, soldiers, Goths, my tears are my weapons, for these are a priest's defence.
I see that you are unusually disturbed, and that you are closely watching me. I wonder what the reason is? Is it that you saw or heard that I had received an imperial order at the hands of the tribunes, to the effect that I was to go hence, whither I would, and that all who wished might follow me? Were you afraid that I should desert the Church and forsake you in fear for my own safety? But you could note the message I sent, that the wish to desert the Church had never entered my mind; for I feared the Lord of the universe more than an earthly emperor; and if force were to drag me from the Church, my body indeed could be driven out, but not my mind. I was ready, if he were to do what royal power is wont to do, to undergo the fate a priest has to bear….
I ought not, I cannot resist in any other way; but to fly and forsake the Church is not my way; lest any one should suppose I did so from fear of some heavier punishment. You yourselves know that I am wont to show respect to our emperors, but not to yield to them, to offer myself freely to punishment, and not to fear what is prepared for me.
– St Ambrose of Milan, Sermon Against Auxentius, On the Giving up of the Basilicas [In the year 385 the Arian bishop Auxentius used an Imperial decree ordering that the basilicas of Milan be handed over to the Arians. St Ambrose led the people in protest over this decree. Challenging his opponents to a discussion in the church, he said their weapons did not frighten him.]
Some ask whether, in case of a shipwreck, a wise man ought to take away a plank from an ignorant sailor. Although it seems better for the common good that a wise man rather than a fool should escape from shipwreck, yet I do not think that a Christian, a just and a wise man, ought to save his own life by the death of another; just as when he meets with an armed robber he cannot return his blows, lest in defending his life he should stain his love toward his neighbour. The verdict on this is plain and clear in the books of the Gospel. 'Put up thy sword, for every one that taketh the sword shall perish with the sword' (Mt 26,52). What robber is more hateful than the persecutor who came to kill Christ? But Christ would not be defended from the wounds of the persecutor, for He willed to heal all by His wounds.
– St Ambrose of Milan, Duties of the Clergy 3,4,27
Just as maniacs, who never enjoy tranquility, so also he who is resentful and retains an enemy will never have the enjoyment of any peace; incessantly raging and daily increasing the tempest of his thoughts calling to mind his words and acts, and detesting the very name of him who has aggrieved him. Do you but mention his enemy, he becomes furious at once, and sustains much inward anguish; and should he chance to get only a bare sight of him, he fears and trembles, as if encountering the worst evils, Indeed, if he perceives any of his relations, if but his garment, or his dwelling, or street, he is tormented by the sight of them. For as in the case of those who are beloved, their faces, their garments, their sandals, their houses, or streets, excite us, the instant we behold them; so also should we observe a servant, or friend, or house, or street, or any thing else belonging to those We hate and hold our enemies, we are stung by all these things; and the strokes we endure from the sight of each one of them are frequent and continual. What is the need then of sustaining such a siege, such torment and such punishment? For if hell did not threaten the resentful, yet for the very torment resulting from the thing itself we ought to forgive the offences of those who have aggrieved us. But when deathless punishments remain behind, what can be more senseless than the man, who both here and there brings punishment upon himself, while he thinks to be revenged upon his enemy!
– St John Chrysostom, Homily 20
You detach yourself from the cross to which you have crucified yourself alongside the Saviour if you go and hit your brother.
– St Theodore Studite, Small Catechism
In the past the emperors were faithless persecutors; presently their piety reaches up to heaven. When passing the threshold of the church they lay off their crowns and sign their foreheads with the Cross of Christ. Outside are the weapons, inside the Mysteries; outside the shields, while in here the sacred acts are performed.
– St John Chrysostom, Homily on the Pentecost, CPG 4343
They [the Christians] love all men, and they are persecuted by all. They are ignored, and yet they are condemned. They are put to death, and yet they are endued with life. They are in beggary, and yet they make many rich. They are in want of all things, and yet they abound in all things. They are dishonoured, and yet they are glorified in their dishonour. They are evil spoken of, and yet they are vindicated. They are reviled, and they bless; they are insulted, and they respect. Doing good they are punished as evil-doers; being punished they rejoice, as if they were thereby quickened by life. War is waged against them as aliens by the Jews, and persecution is carried on against them by the Greeks, and yet those that hate them cannot tell the reason of their hostility.
– The Epistle of Mathetes to Diognetus, Chapters 5 and 6
full text available at: earlychristianwritings.com
We [the Christians] started yesterday and already we have filled the world and everything that belongs to you — the cities, apartment houses, fortresses, towns, market places, the camps themselves, your tribes, town councils, the imperial palace, the Senate, the Forum. The only thing we have left to you are the temples. We can count your armies; there is a greater number of Christians in one province! What kind of war would we, who willingly submit to the sword, not be ready or eager for despite our inferior numbers if it were not for the fact that according to our doctrine it is more permissible to be killed than to kill.
– Tertullian, Apology, 37:4
Hence [from the days of Cain and Abel] finally begin the first hatreds of the new brotherhood; hence the abominable parricides, when the unjust Cain is jealous of the just Abel, when the evil persecutes the good out of jealousy and envy… He was unjustly oppressed who had been the first to show justice; he endured hatred who did not know how to hate; he was slain impiously who while dying did not fight back. What other than the stimulus of jealousy provoked Saul the king also to hate David, to desire to kill that innocent, merciful man, patient with a gentle mildness, by often repeated persecutions? Because, when Goliath had been killed and so great an enemy had been slain by divine assistance and condescension, the admiring people burst forth into approbation unto praise of David, Saul through envy conceived the furies of hatred and persecution.
– St Cyprian of Carthage, Jealousy and Envy, Chapter 5
No one of us fights back when he is apprehended, nor do our people avenge themselves against your unjust violence though numerous and plentiful. Our certainty of the vengeance which is to come makes us patient. The harmless give way to the harmful; the innocent acquiesce in the punishments and tortures certain and confident that whatever we suffer will not remain unavenged, and that the greater is the injury of the persecution, the more just and serious will be the vengeance for the persecution. Long ago divine Scripture laid down and said: 'Vengeance is mine, I shall repay, says the Lord,' and let the Holy Spirit again warn us saying: 'Say not: I will avenge myself on my enemy, but wait in the Lord so that He may aid you.' Thus it is clear and manifest that not through us but for us do all these things happen which come down from the anger of God.
– St Cyprian of Carthage, To Demetrian, Chapter 17
From the sacrament of the cross you receive both food and drink; let the wood, which availed at Mara in a figure for sweetening the taste, avail you in truth for soothing the softened breast, and you will not labour for the remedy for increasing the health. Cure yourself at the source from which you had been wounded. Love those whom you hated before; esteem those whom you envied with unjust disparagements. Imitate