Sermon
Delivered by His Grace, Bishop Demetri
at the
2002 Clergy Symposium,
Antiochian Village, PA.
Come Forth and be Holy!
 (+In the Name of the Father, and of the Son, and of the Holy Spirit: One God!)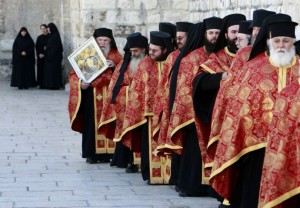 Priests & Deacons of the Most High God û Come forth! 
         As you know, this is the call with which the Bishop summons the clergy who will partake of the Holy and life giving Body and Blood of Christ.   However, we must understand that this call applies not only for that specific moment in the Divine Liturgy.   Rather, it is the song of Christ to all that would serve Him!   It is the cry with which Christ called forth Lazarus from the dead, saying û Lazarus, Come forth; Come forth into life!   Accordingly, each of us is summoned from the death of sin in order to participate in the holy life of Christ.   As members of the Priesthood we must first have this life in us if we would heal others and bring them from death into life!   
Bringing holiness and life to others: That is why God has called you into His service.   Indeed, that is why you have been gathered together into this sacred brotherhood this week, because:
Together we are strengthened and nourished by the Holy Spirit;
Together we are renewed into the shining Image and Likeness of Christ;
Together we share in the holiness of God; and,
Working together with the Holy Trinity and each other, we can change the world.
The job of Priest û or rather û the vocation of the Priesthood is of such great importance: God has entrusted you with the eternal souls of men and woman.   That is why St. John Chrysostom tells us:
The priesthood is performed on earth but it possesses the order of heavenly things.
When Aaron was set aside as a Priest of Israel, a pure gold plate was engraved with the words: ôHoly to the Lord.╜(Ex.28:36-38)    This plate was attached to the front of Aaron╝s turban so that it would be on his forehead continually.   In this manner, the gifts which were offered by the people became acceptable before the Lord.
You see, like Aaron of old, you have been chosen, you have been set aside.   You are God╝s appointed ones.  Your life, and your service, belong to the Lord.  That is why you have the name clergy, which comes from the Greek word ôkleros╜, meaning ôshare╜ or ôportion.╜  You are the Lord God╝s ôportion╜ — His holy ones!   Through you the world is to be made Holy to the Lord!
What an awesome vocation we have.  Truly, God has entrusted us with a great responsibility û to bring the world into holiness.   What does this require of us?  Much!
St. Gregory of Nazianzus tells us that if a man would be one of God╝s portion, he must first:
╨        Be cleansed before cleansing others;
╨        He must himself be wise, so that he can make others wise;
╨        He must become light before he can give light;
╨        He must draw near to God before he can bring others near; and,
╨        He must be holy before he can make others holy.
We are the representatives of the Faith and the Church.  We are representatives of the Lord Jesus Christ Himself.  Therefore, as ôwounded healers╜ in the image of Christ, we must be examples of humility, purity, courage, firmness, patience, and a joyous spirit.   In short, we must first be holy if we are to make those around us holy.  The resounding truth of our faith is that we cannot give away what we do not have!  
Yet, glory of glories: Christ teaches us — through the Apostle Peter — that the moment we strive from our whole heart for holiness û through faith in Christ û we become partakers of the Divine Nature.  That is, we begin to possess the holiness of Christ, through faith.   Further, St. Peter urges us beyond faith û beyond this initial holiness into greater holiness!   He tells all believers to make every effort to:
╨        Supplement their faith with virtue;
╨        To supplement their virtue with knowledge;
╨        Their knowledge with self-control;
╨        Their self-control with steadfastness;
╨        Steadfastness with godliness;
╨        Godliness with brotherly affection; and,
╨        Brotherly affection with love.     (2 Peter 1:3-11)
Peter warns us that if we fail to strive towards these Christian qualities, we will become ineffective and unfruitful.   Moreover, if we lack these things, he tells us it is because we are blind and shortsighted, having forgotten that Christ has cleansed us from our sins and delivered us from death.
If this is applicable to every believer, how much more does it apply to those in the Priesthood?   The Fathers, as if with one voice, tell us that a stricter accounting before God will be required of those in the Priesthood.   St. John of Kronstandt warns us:
For a priest, in his ordination, has been given a great potential for piety, and if he does not live accordingly, and fulfill it, he dooms himself through his own negligence and impenitence.
Indeed, our Lord Himself warns us that:
Everyone to whom much is given, of him much will be required.  (St. Luke 12:48)
You see, when Christ says to us:  Come Forth!  He calls us to a new and dynamic way of living.   He calls us to be holy and God is holy; He calls us to live His life û and then share His life with the world.
Are you ready to change the world?   It is our working in and through Christ that brings the light of Christ to the world.   We are the hands and feet of the Church.  We are called upon to reach out to those in need; we are to walk to see those who are lonely; we are to open our lives to the needs of those around us.
You see, working together as One Holy Family of God, we can change the world.   Together, as we confess that Jesus Christ is Lord, God the Father blesses us with His Divine Grace; God the Holy Spirit strengthens us for victory; The Church Victorious (all the Saints) lift us up before the Throne of God; and, the Choirs of the Bodiless powers cover us with heavenly protection!   But, this only happens when we begin to live a Christ-like life û when we begin to live and work for those around us in the love of Christ.
Your presence here this week demonstrates your commitment to holiness.   Your desire to continue in the Orthodox Faith and to grow in the knowledge of God proves you to be ôZealous to confirm your call and election.╜(2 Peter 1:10).   In this manner, you are ôrichly provid

[ing]àan entrance into the eternal kingdom of our Lord and Saviour Jesus Christ,╜ first, for yourselves and then, for the flocks which you shepherd. 

(Id. at 1:11)

Therefore, my beloved, I supplicate you to Come Forth, and be Holy, in the faith and love of our Lord Jesus Christ: Whose Name is blessed, always, now and ever and unto ages of ages.  Amen.